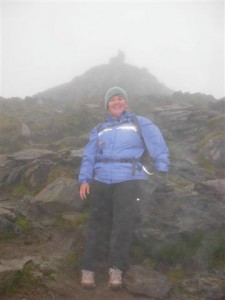 Michele Moore, BA, RMT, CFR
After graduating from Sutherland-Chan College of Massage Therapy in Toronto (1999), I returned to work in PEI and have been working full time, with Laura, in our clinic for just over 20 years now. Prior to becoming a massage therapist, I worked with developmentally handicapped adults.
My therapeutic approach draws upon multifaceted training, including  courses in myofascial release, pregnancy massage,  foot reflexology, basic manual lymph drainage and cupping as well as my longstanding clinical experience. I am effective in treating a wide range of conditions and enjoy working with my clients to achieve optimal results. I am dedicated to adhering to the highest professional standards and working with you to improve your well being in a safe and caring environment, including new enhanced protocols to protect everyone during the covid pandemic.
In my spare time, I enjoy the outdoors, birding and travel. (maybe again someday! ) Here, I am pictured at the peak of Mt. Snowdon in Wales.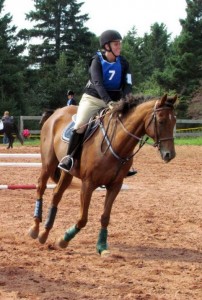 Laura Dear, RMT
I graduated from ICT Northumberland College of Massage Therapy in 1999 and have been practicing full time in Charlottetown ever since. I have completed Vodder level 1 and 2 Manual Lymph Drainage (MLD) and in so doing have my certificate in Applied MLD. This is useful in the treatment of swelling from disfunction, injury, pre and post- surgical swelling and pre and post- joint replacements. MLD works very well to reduce pain and selling for tooth implants, sinus issues and many other conditions. I am hoping to do Level 3, Lymphedema in November 2020 if the Covid-19 travel restrictions subside.
Since taking "TMJ Mastery" with John Corey, RMT in 2011, I have been specializing in the treatment of Temporo Mandibular Joint (TMJ) Dysfunction. I am very encouraged by the success I am having in the treatment and management of the associated signs and symptoms of this painful condition.
Before I became a Massage Therapist, I taught snowboarding full time at Blackcomb Mountain in Whistler, BC and still enjoy getting out periodically through the winter. Most of my spare time is spent with my family but I do manage to carve out time to ride my horse and compete at local shows and Horse Trials. In October 2012, I ran my first Half Marathon with a time of 2:10:53! Since then, I have been an avid runner logging 20-30km a week and have done the Charlottetown Marathon (half) and the half at the Bluenose in Halifax.